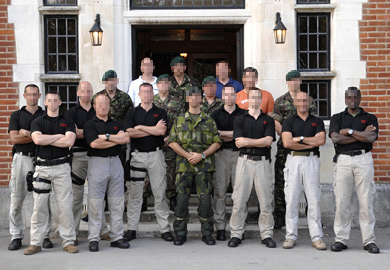 The Team
Patriot Group is made up of four divisions, team leaders are qualified trainers in their own field of expertise, having trained Government, Military, Police, private and commercial company members in Cyprus, Malaysia, Columbia, Iraq, Afghanistan, Russia and America. Operators and Instructors are drawn from UK, Europe and the USA.

Our Military division has within it specialist multi-lingual operators who have lived and operated within key world crisis areas and who in the last 10 years alone have advised, trained and operated with Russian Special Forces Police, Middle and Far Eastern Anti-Terrorist and Close Protection teams. Team leaders were attached to the Royal Malaysian Special Operational Forces for the Commonwealth Games hosted by Malaysia. All team leaders hold 1st to 6th Dan grade black belts, some being highly militarily decorated. All PolArm instructors are NPIA trained and accredited.

Our Commercial division includes multi-national key personnel with expertise in staff development within Marks & Spencer PLC., Specialist Career Placement Officers with over 15 years experience working for the British Government and Health & Safety Enforcement Officers.

Our dynamic team of specialist skills instructors include: Military weapons range conducting officers, Close Protection, Counter Terrorist, Hostage Rescue, Survival Skills, Nuclear Biological & Chemical Instructors, Master and Rescue Divers, PADI Training Directors, 1st - 6th Dan Martial Artists, HSE First Aid trainers and examiners, Assessment Surveillance Screening Trained personnel, Physical Training Instructors Helicopter Abseiling and Fast Roping Specialists, Mountain Leaders, Close Observation & Surveillance, Arrest & Restraint, Advanced Driving Instructors, Fire Officers and Crisis Management Trainers.